21 Sep

Getac A140

See More
Do More

The Getac A140 fully rugged tablet is our largest and most powerful tablet to date. It delivers exceptional performance, industry-leading security and a spacious 14″ display, with wide viewing angles, that provides more room to get things done, with less scrolling. A host of convenient carrying and mounting options makes it ideal for maximum mobile productivity.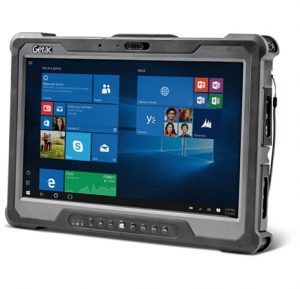 Technical Features
Operating System
Windows 10 Professional
Windows 7 Professional
Mobile Computing Platform
Intel® Core™ i7 vPro™ Technology
Intel® Core™ i7-6600U vPro™ Processor 2.6GHz
Max. 3.4GHz with Intel® Turbo Boost Technology
– 4MB Intel® Smart CacheIntel® Core™ i7 Technology
Intel® Core™ i7-6500U Processor 2.5GHz
Max. 3.1GHz with Intel® Turbo Boost Technology
– 4MB Intel® Smart CacheIntel® Core™ i5 Technology
Intel® Core™ i5-6200U Processor 2.3GHz
Max. 2.8GHz with Intel® Turbo Boost Technology
– 3MB Intel® Smart CacheIntel® Core™ i5 vPro™ Technology Optional
Intel® Core™ i5-6300U vPro™ Processor 2.4GHz
Max. 3.0GHz with Intel® Turbo Boost Technology
– 3MB Intel® Smart Cache
VGA Controller
Intel® HD Graphics 520
Display
14″ TFT LCD HD (1366 x 768)
Optional 1000 nits Lumibond® display with
Getac sunlight readable technology
Capacitive multi-touch screen
Optional 14″ IPS TFT LCD FHD (1920 x 1080)
Optional 800nits Lumibond® display with Getac
sunlight readable technology
Capacitive multi-touch screen
Storage & Memory
4GB DDR4 expandable to 32GB
OPAL 2.0 SSD 128GB / 256GB / 512GB
Keyboard
8 tablet buttons (Windows, Power, Camera Capture,
Barcode Reader Trigger, OSDC, Rotation Lock,
Volume Up, Volume Down)
Pointing Device
Touchscreen
– Capacitive multi-touch screen
Expansion Slot
Optional 1D/2D imager barcode reader
Optional serial port or VGAi
Ethernet x 2
MicroSD
Optional fingerprint scanner
Optional RFID
I/O Interface
Optional FHD webcam x 1
Optional 8M pixels auto focus rear camera x 1
Headphone out / mic-in combo x 1
DC in Jack x 1
USB 3.0 (9-pin) x 2
USB 2.0 (4-pin) x1
Docking connector (24-pin) x 1
HDMI x 1
Optional RF antenna pass-through for GPS,
WLAN and WWAN
Communication Interface
10/100/1000 base-T Ethernet x 2
Intel® Dual Band Wireless-AC 8260, 802.11ac
Bluetooth (v4.2)ii
Optional dedicated GPS
Optional 4G LTE mobile broadband
Software
Getac Utility (including Power Manager)
Getac Camera
Getac Geolocation
Getac Barcode Manager
Adobe® Reader®
Optional Absolute DDS® Persistence
Security Feature
Intel® vPro™ Technology
TPM 2.0
Optional RFID
Optional fingerprint scanner
Smart Card reader
Kensington lock
Power
AC adapter (65W, 100-240VAC, 50 / 60Hz)
Li-Ion smart battery (10.8V, 3220mAh) x 2
LifeSupport™ battery swappable technology
Dimension (W x D x H)
369 x 248 x 32.5 mm (14.58″ x 9.76″ x 1.279″),
2.3 kg (5.07 lbs)iii
Rugged Feature
MIL-STD-810G certified and IP65 certified
MIL-STD-461G certifiediv
Optional ANSI/ISA 12.12.01
4 feet drop resistant
Vibration & drop resistant
e-Mark certified for vehicle usage
Environmental Specification
Temperaturev:
– Operating: -21°C to 60°C / -5.8°F to 140°F
– Storage: -51°C to 71°C / -60°F to 160°F
Humidity:
– 95% RH , non-condensing
Data Sheet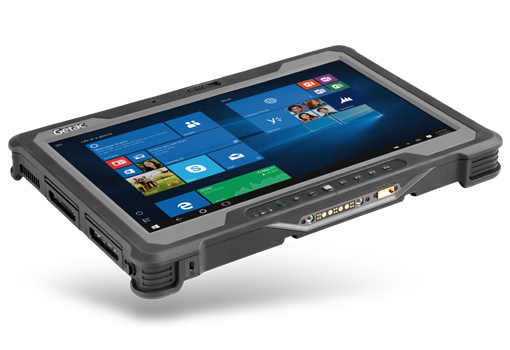 Brilliant 14" Sunlight Readable Display
The A140 features a brilliant 14", sunlight readable display. With available Full HD IPS (800 NITs) and HD (1000 NITs) screens, you can see everything clearly, even in the most challenging environments.
LumiBond® 2.0- Better, Brighter, Stronger
Responding effortlessly to your every touch, our revolutionary LumiBond 2.0 touch screen technology bonds the display glass with the touch panel and LCD, creating a single panel that is more durable and readable, and offers better contrast and more crisp colors than any other rugged display. The A140 features several advanced touch modes that allow operation in the rain, with gloves on and using the included hard-tip stylus, ideal for capturing signatures and taking more precise notes on drawings, maps or forms.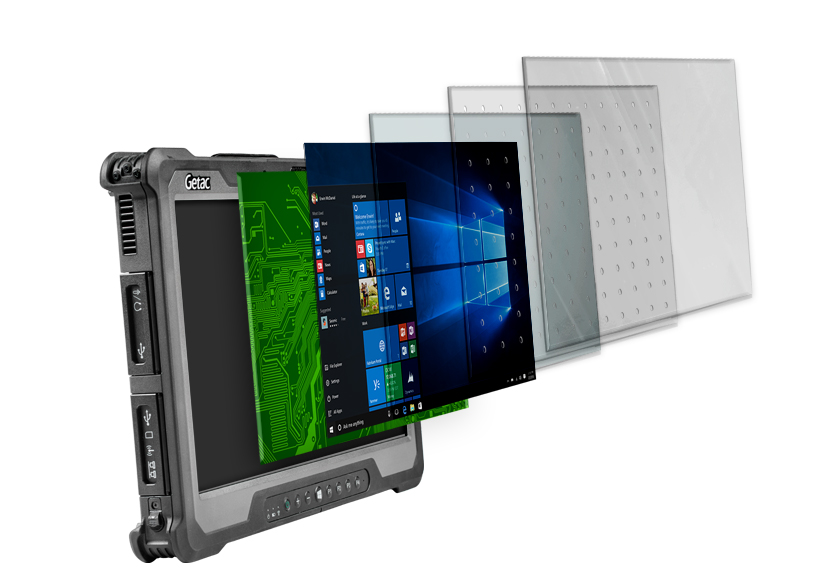 Maximum Performance
The A140 is designed for maximum mobile performance and productivity. Powered by available 6th Generation Intel® Skylake Core™ i5 and i7 processors, the A140 brings greater computing and GPU performance with reduced power consumption, ideal for data-intensive multitasking.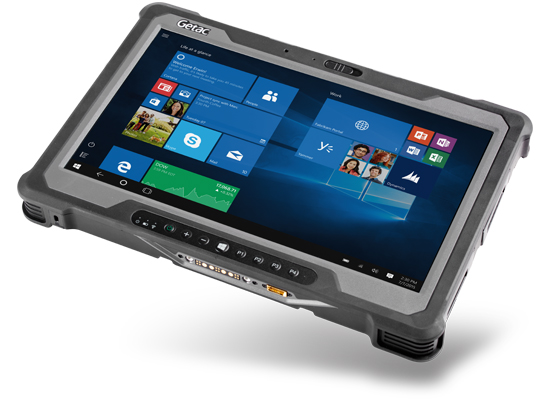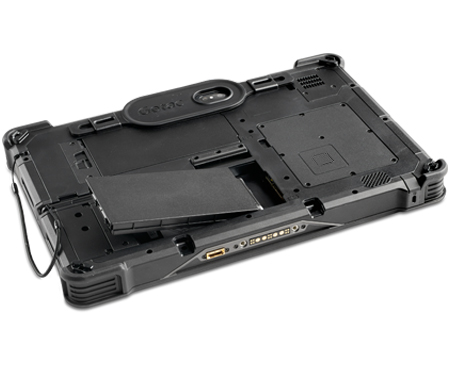 Dual Batteries for Limitless Power
The A140's unique, hot-swappable dual-battery design allows for potentially infinite, uninterrupted battery life. This allows you to swap new batteries in and out without ever shutting down.
Uncompromised Mobility
The A140 fully rugged tablet provides a host of convenient carrying and mounting options to adapt to the way you work. The optional multi-function hard handle acts as a kickstand while working and a sturdy way to grab the tablet and go. An available slim-profile vehicle dock maximizes cab space and supports tri-pass through ports for connection to high-gain GPS, WWAN and WLAN roof mounted antennas.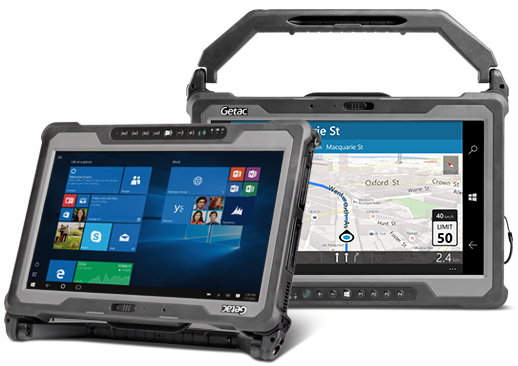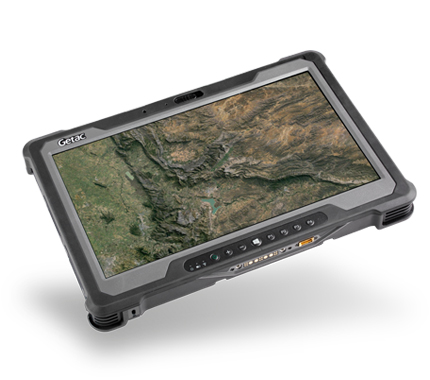 Configurable & Purpose Built
The A140 is designed to be a purpose-built tool with a host of configurable options to fit your workflow. We know that no two jobs are the same, which is why we built a completely customizable machine to give you options like barcode reader, dedicated GPS, LAN, serial ports and more.


Front and Rear Cameras
Available Full HD front and 8 MP rear cameras make image and video capture, video conferencing and field training convenient and easy.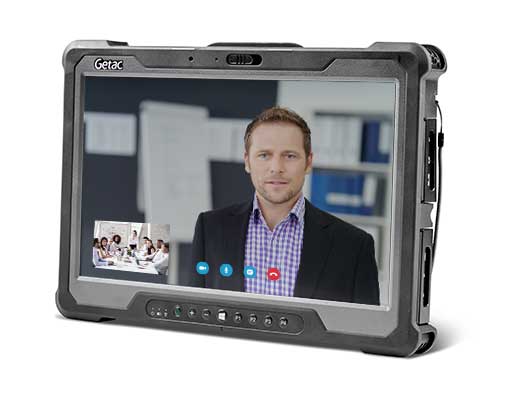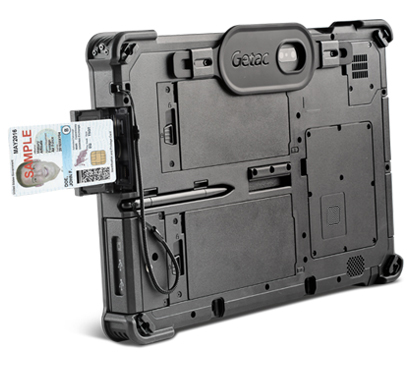 Security Redefined
Experience a robust suite of security features, including multi-factor authentication, to protect against malicious threats and intrusions.

6th Gen Intel® Core™ I7 vPro™
The F110 can be configured with either the latest Intel® Core™ i7 or i5 vPro processor, delivering an amazing level of CPU performance.

Intel HD Graphics 520
Getac's F110 features the new Intel® HD Graphics 520 providing an unparalleled level of responsiveness and frame rate for both 3D graphics and video.

Trusted Platform Module 2.0
The A140 features TPM 2.0 – a powerful anti-tampering device that checks for any signs of intrusion during system boot-up.

Absolute DDS
This optional protective measure disables your A140 if it detects an unauthorized or compromised entry.

Windows 10 Security
The A140 fully supports Microsoft's latest authentication tools, including Windows Hello, Microsoft Passport and Credential Guard.

NFC/RFID Reader
Authenticate your credentials via Near Field or Radio Frequency transmission.

Fingerprint Scanner
Verify your ID with ease and accuracy by simply swiping your finger.

Smart Card Reader
The A140 supports Smart Cards for secure identity verification.
Ultra-Fast Connectivity
The A140 integrates high-speed wireless communication technologies so you can stay connected online anytime, anywhere.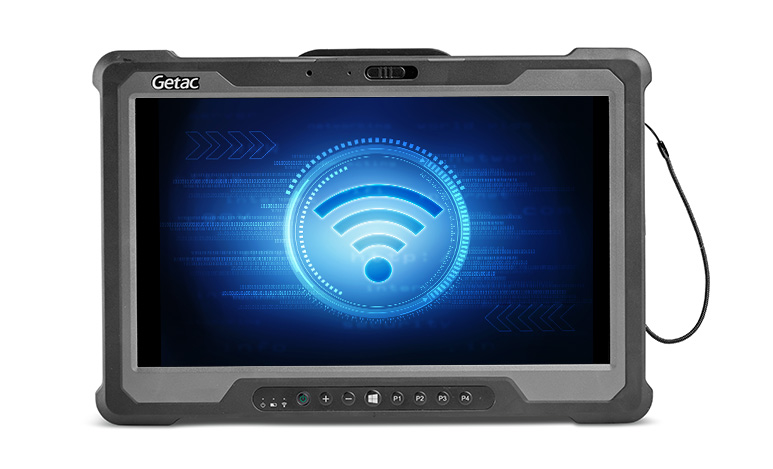 Advanced 4G LTE
Enjoy exceptional coverage, download and upload speeds with fewer dropouts.

Dual Band 802.11ac WiFi
Experience faster and more reliable data speeds with the latest wireless technology.

Bluetooth 4.2
Transmit and receive data between the newest Bluetooth® devices with ease.


Built to Survive
Only Getac manufactures rugged tablets down to the chassis. The A140 was engineered to protect the tablet against drops, shocks, spills, vibration, dust, liquid and more. The A140 has been independently tested and certified to MIL-STD 810G, IP65 and MIL-STD-461G standards.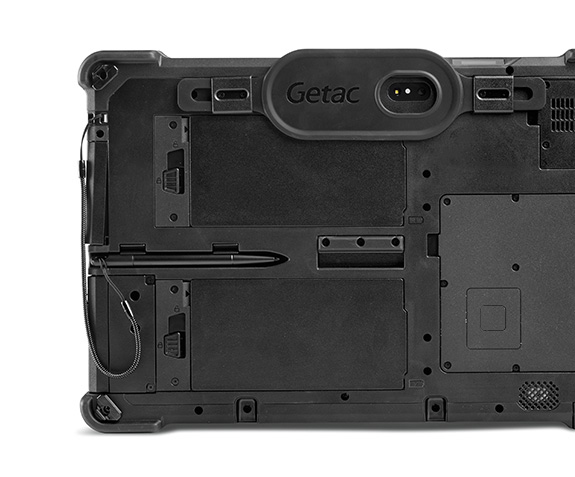 Beyond Expectations
Our new Bumper-to-Bumper fully rugged warranties go beyond the expected to protect your productivity.

Industry's Best 3-Year Warranty
Accidents can take your equipment out of service when you least expect it, especially in a rugged environment, which can cause costly equipment downtime.
That is why Getac has introduced accidental damage as standard under our new Bumper-to-Bumper warranty, to help minimize your enterprise IT costs.
Bumper-to-Bumper is your hassle-free guarantee.
That means you can depend on us to have your unit back in service within days.
Standard
3 years Bumper-to-Bumper.